Carryboy
Kiosk 2000
is the world's leading custom food truck business & food truck builders / manufacturer. we ship all over the country & world !
• 2-sided folding door Kiosk • Skirt • Internal LED lamp • AL. Checker plate • Standard fire control
• 2-sided folding door kiosk • Skirt • Internal LED lamp • AL. Checker plate • Standard fire control • Sink system • Floating cupboard • Long counter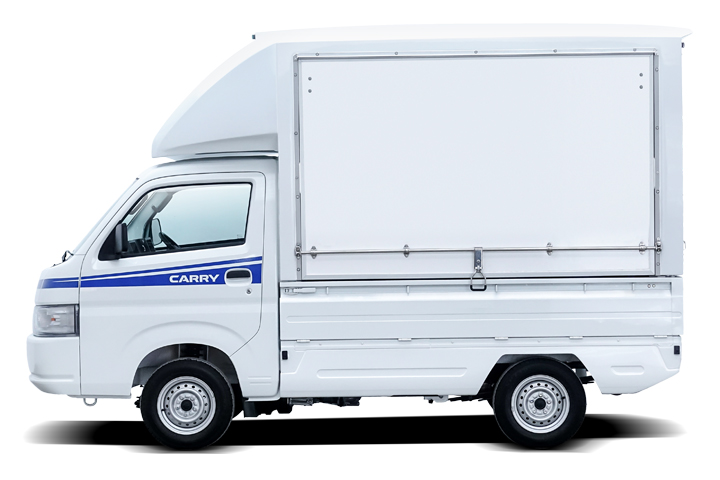 Full Side Opening
Shutter Door
3 - Sided Folding Door
Rear Door
Full - Opening Rear Door
Our commercial canopy come in a range of sizes and configurations to provide the storage you need and the style and performance you want in your work vehicle.
Cargo 2000 - Suzuki Carry commercial canopy feature the same premium materials and quality components.
Cargo Half -

Suzuki Carry
Our new Cargo Half - Suzuki Carry suitable for ride range of commercial loading purposes such as furniture removals, transport goods, express delivery, moving office, tools & equipment, household moves etc.
Carryboy Kiosk
is a trusted food truck, moving stage, mobile banking, van conversion, mobile services, mobile kiosk manufacturer that has been in business since 2008. The manufacture our trucks in
Thailand
. We ship truck conversions all across the country (and world) !

We can do almost anything!
T.R.K Bangkok Industry & Exporter Co.,Ltd.
888 Luangphaeng Road, Tabyao,
Ladkrabang, Bangkok 10520,
Thailand
Our hours of operation are :
Monday — Saturday
8:00 A.M. — 5:00 P.M.
UTC/GMT+7 hours
Tel : +66(0) 2360 7555
Fax : +66(0) 2738 7551
E-mail
: carryboy@carryboy.com
Website
: http://m.carryboykiosk.com

Certification TÜV
from Germany
Certification
ISO 9001 : 2015
©
Copyright 2020-2021
Best view with
mobile devices